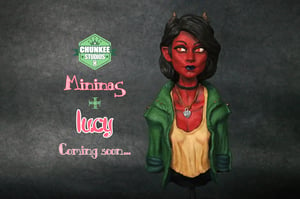 $

6.66
Introducing our new line of hand painted resin busts composed of a wide arrange of different designs of cartoony girls in different situations, an astronaut ?, a girly alien ? a sexy cyborg ?, a power lifting amazon?, who knows. We want to celebrate female diversity in our sculptural exploration.
We hope you join us in our adventures.
"Lucy is quick to say what she thinks and she's a hard-edged little demon who doesn't tolerate bad manners, but underneath her devilish looks, she's kind, willing to help those in need to fight injustice. She's a lovely devilish girl on the inside"
www.facebook.com/chunkeestudios
www.instagram.com/chunkeestudios
---
PRICE: TBA